Per The Governor's updated stay home /stay safe mandate extended to May 31st, we are OPEN FOR BUSINESS!  Per the NWMLS guidelines, we are only allowed to have two people on the property at the time of inspection.  Since agents are required to open up the home for the inspector, clients are not permitted to attend the inspection.  We will provide follow-up Zoom meetings/conference calls with clients and brokers upon request if additional questions arise.  We hope and pray that all remain safe during this time and enjoy time with loved ones.
---
Sound advice offers peace of mind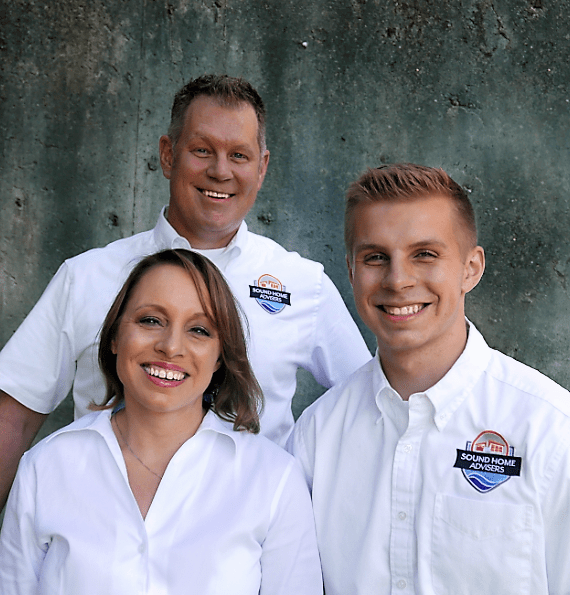 ---
About Sound Home Advisers
We are a multi-inspector firm with decades of experience proudly providing Home and Warranty Inspections for Kirkland, Kenmore, Seattle, Bellevue and select areas in King and Snohomish counties.  Our standard home inspection is a comprehensive evaluation of the interior and exterior of your home. The non-invasive inspection is based on our observations of the visible and accessible areas of the structure, its systems and components. Following your inspection, you will receive a comprehensive report, complete with photos, that includes information on any material defects we observed on the date of the inspection.  When looking for a home inspector in the Puget Sound, look no further than Sound Home Advisers.
Jesse was very thorough and gave great feedback on our new home purchase! He was able to come out on a short notice and during a global pandemic! HIGHLY recommend!!!!
— Angela J.
Jesse was not only the most thorough and professional home inspector I have worked with, he actually had a sense of humor. He walked me through every step of the process, telling me exactly what he was looking for and why it was important. He even took a picture of our family in front of our new home.
— Greg B.
Jesse is just AWESOME! He did a great job, explained everything, and sent us a very detailed inspection report the very next day. I would definitely use his services again.
— Aida T.
---
Take Care of Your Home Today!
Get a hold of us anyway you wish!
Email: Info@SoundHomeAdvisers.com
(425) 770-2776
Mon. – Fri.
9.00AM – 5.00PM
Cities and neighborhoods inspected: Kirkland, Bellevue, Redmond, Issaquah, Bothell, Kenmore, Mill Creek, Lynnwood, Snohomish, Fall City, Renton, Seattle, Newcastle, Mercer Island, Kingsgate, Totem Lake, Juanita, Woodinville, Maltby, Carnation, Renton Highlands, West Seattle, Queen Anne, Ballard, Greenwood, Northgate, Lake City, Edmonds, Shoreline, Everett, Cathcart, Sammamish